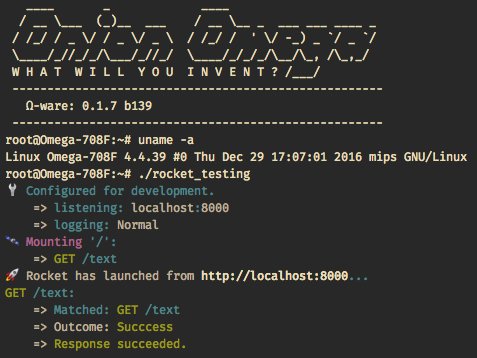 The second part of this week's 2-Bullet Tuesday! See the first part here.
You can subscribe to the newsletter on the 2-Bullet Tuesday page!
Deep Dive of the Week:
Cross-Compiling Rust Applications for the Omega
Intrepid developer @shanelogsdon posted a great guide on cross-compiling Rust applications for the Omega2 using Mac OS X .
The guide covers:
How to find the compilation target triple (an identifier specifying the architecture, vendor, and OS) for the Omega
Setting up and writing an example Rust application
Building the toolchain required to cross-compile for the Omega
Cross-compiling your Rust application
Running the application on your Omega
See his original Tweet and the guide for more details. It might seem a little daunting at first, but the guide is clear and easy to follow. A great intro to Rust on the Omega!
Let us know what kind of stuff you would like to see featured on 2-Bullet Tuesday! Send a tweet to @OnionIoT with your suggestions!
Thanks for reading! Have a happy Valentine's day and a great week!
♥ Team Onion
One response to "Cross-Compiling Rust Applications for the Omega"