Low-cost, production-ready Linux modules for connected devices and sensors
The Onion Omega2 Linux Compute Modules are designed for applications that require drop-in connectivity and computing. The 42.9×26.4×9.9 mm package features a CPU, memory, flash storage, and a WiFi radio. It runs a Linux Operating System and is FCC certified, making it a small but powerful solution for IoT devices.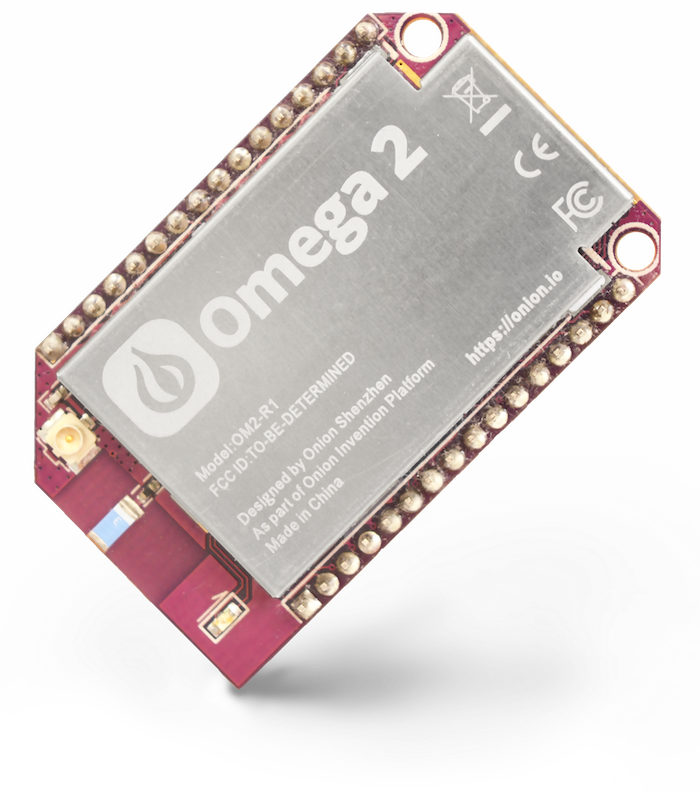 Overview
The Omega2+ IoT computer is Onion's Linux-based, WiFi development board designed to enable makers of all skill levels to build connected hardware applications. Plug in your Omega and it will boot the operating system right away, allowing you to develop in your favorite programming language, create web applications, and interface with a variety of hardware with minimal time and effort spent getting started.
Hardware
At the Omega2+'s core is the MT7688 SoC that features a 580 MHz MIPS CPU, supports 2.4 GHz IEEE 802.11 b/g/n WiFi as well as 10M/100M wired ethernet network connectivity, and operates at 3.3V. The Omega2+ comes with 128MB of DDR2 DRAM memory and 32MB of on-board flash storage, double that of the Omega2! The storage space is expandable using the MicroSD card slot on the underside of the Omega2+.
The Omega was built to interact with other hardware, so it has a wide variety of hardware interfaces. It has dedicated pins for USB2.0 and Ethernet as well as 12 GPIO pins that can be controlled by the user. These GPIOs can support the I2C, UART, and SPI serial communication protocols.
The best part is that it's tiny, measuring 1.7″ by 1″ it takes up minimal space in the project.
Software
The Omega2+ runs an Onion-customized version of the LEDE (Linux Embedded Development Environment) Linux operating system, a distribution based on OpenWRT. Since there is a full Linux OS running on the Omega, users are not limited in their choice of programming language. Supported programming languages include:
C
C++
Python
NodeJS
Rust
Ruby
PHP
Perl
GoLang
Shell
The Omega's OS comes equipped as a web server by default, so that other devices on the local network can interact with the Omega through a browser.
IoT Computer
So what makes the Omega2+ an IoT Computer? It's a combination of the following:
Small form factor
Power efficiency
Processing, networking, and encryption capabilities
Flexibility that comes from running a Linux OS

Support for many programming languages and many simultaneous processes
The Omega2+ is powerful and flexible enough to be the brain of almost any IoT device.
Variants
Modules
| | |
| --- | --- |
| Omega2 (OM-O2) | RAM: 64MB, Flash: 16MB, Packaging: Through-Hole, SD-Card: No |
| Omega2+ (OM-O2P) | RAM: 128MB, Flash: 32MB, Packaging: Through-Hole, SD-Card: Yes |
For surface mount version of the Omega2 check out 
Omega2S
Specifications
CPU
| | |
| --- | --- |
| Chipset | MT7688AN |
| Architecture | MIPS24KEc |
| Clock Speed | 580MHz |
Memory
| | |
| --- | --- |
| Flash | 16MB (OM-O2) or 32MB (OM-O2P) |
| DDR2 DRAM | 64MB (OM-O2) or 128MB (OM-O2P) |
WIFI
| | |
| --- | --- |
| WiFi Protocol | WEP64/128, AES, WPA, WPA2, WAP |
| Base Band | 2.4GHz |
| Data Rate | 150 Mbit/s |
| Channel Bandwidth | 20/40 MHz |
| Operation Mode | AP, STA, AP&STA |
| Encryption Mode | IEEE 802.11 b/g/n |
| On-board Antenna | 2 dBi directional chip antenna |
| Antenna Connector | U.FL connector for optional external antenna |
Interfaces
| | |
| --- | --- |
| Ethernet | 1 (10M/100M) |
| USB 2.0 Host | 1 |
| SPI | 1 |
| I2C | 1 |
| I2S | 1 |
| UART | 2 |
| PWM | 2 |
| GPIO | Up to 18 |
| SD | 1x MicroSD slot ( OM-O2P only) |
Power Supply Requirement
| | |
| --- | --- |
| DC Input | 3.3V |
| No-load Running Current | 200±40mA |
| Peak Current Requirement | 800mA |
Operation Conditions
| | |
| --- | --- |
| Ambient Temperature | -10°C ~ 55 °C |
| Storage Temperature | -20°C ~ 80° C |
| Operating Humidity | 10%-95%RH (Non-Condensing) |
| Storage Humidity | 5%-95%RH (Non-Condensing) |
Physical Specifications
| | |
| --- | --- |
| Dimensions | 42.9*26.4*9.9 mm |
| Packaging | Through-hole |
| Pin Pitch | 2mm |
| Total Pins | 32 |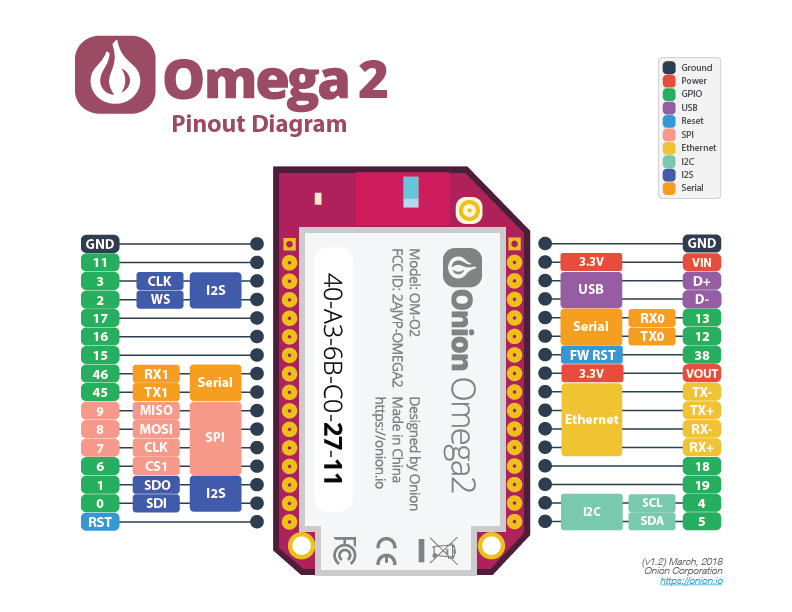 Documentation & resources