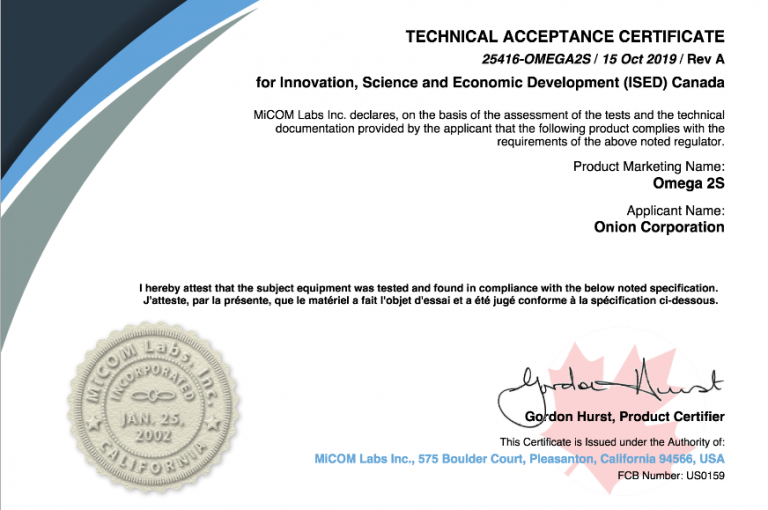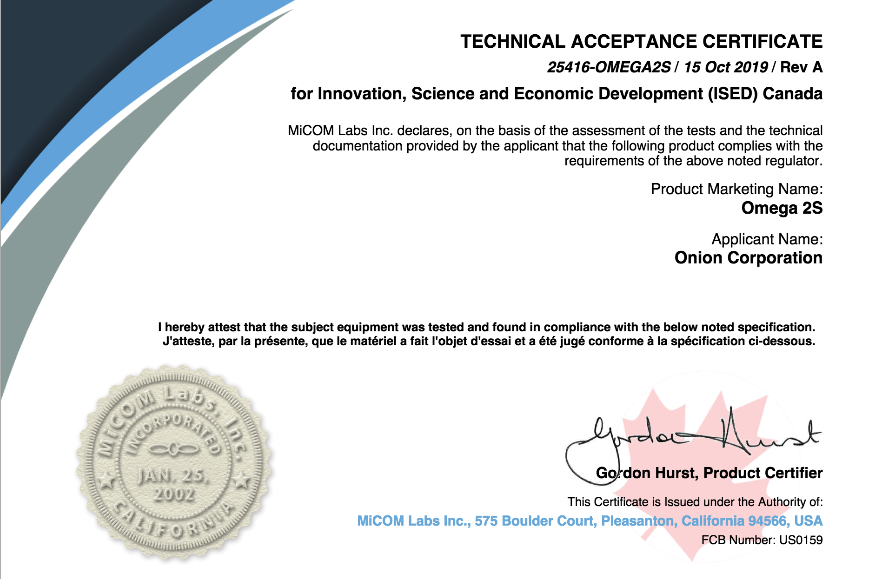 At Onion, we strive to offer connectivity and computing solutions that help our customers build their connected products with a reduced development time. We're committed to working with our customers and continuously improving our products to achieve this goal.
To that end, we've excited to announce that the Omega2S modules have received ISED certification and have successfully undergone industrial temperature range testing.
Industrial Temperature Range
The Omega2S modules have successfully been tested for operation from -40˚C to +85˚C. This is exciting since it enables use of the Omega2S in tougher industrial environments!
The temperature testing was done according to test methods IEC 60068-2-2:2007 and IEC 60068-2-1:2007. Meaning that Omega2S devices were tested to run without issues or any network connectivity loss in a temperature chamber at the minimum -40˚C and the maximum +85˚C.
Check out the test report for all of the details.
ISED Certification
The Omega2S modules have received Canadian ISED certification. Onion's ISED Company Number (CN) is 25416 and the Omega2S certification number is 25416-OMEGA2S.
ISED, which stands for Innovation, Science and Economic Development Canada, governs wireless certification in Canada. ISED certification can be thought of as the Canadian equivalent of FCC certification in the USA. This government body was previously known as IC, Industry Canada.
The ISED certificate and full test report can be found on GitHub.
Find all of our Omega2 documents on GitHub. 
Or sign up to get the full Omega2S technical document package sent directly to your email!
Send me the technical document package