Omega2 Wireless LiDAR Kit
$199.00
OM-K-LIDR
Onion's wireless LiDAR solution offers a new indoor 360˚ 2D LiDAR scanner that uses rotating laser ranging to measure and map exact distances to indoor surroundings. For the first time, users can seamlessly integrate a wireless and mobile LiDAR unit with a full workstation through the Omega2's wireless connectivity.
Connecting Onion's 360˚ 2D LiDAR unit to the Omega2 allows for the transmission of raw data to any computer in the local network. This wireless LiDAR solution allows users to take full advantage of powerful visualization and navigation software while their untethered LiDAR unit is deployed in the field in real time. Software included in the kit uses raw scan data to produce a 2D 360˚ visualization of the LiDAR's surroundings up to 8 meters away.
Only 1 left in stock
Description
Thanks to the Omega2, the kit enables the active transmission of the LiDAR USB signal over WiFi. This wireless integration allows for any computer on the local network to connect to the LiDAR unit as if it were physically plugged in. You can deploy your LiDAR scanner in the field while receiving real-time data on your workstation!
What's Included
Omega2+
Power Dock 2
360˚ LiDAR Scanner
LiDAR control board
2x MicroUSB cables
LiDAR specifications:
Performs 2D 360˚ scans
Up to 5000 samples/second
A range of 8 meters
The LiDAR Scanner uses Laser technology and complies with FDA Class I standards. It is non-hazardous to human eyes.
The Omega2 Wireless LiDAR Kit connected and actively scanning:
The included Windows LiDAR Visualization software: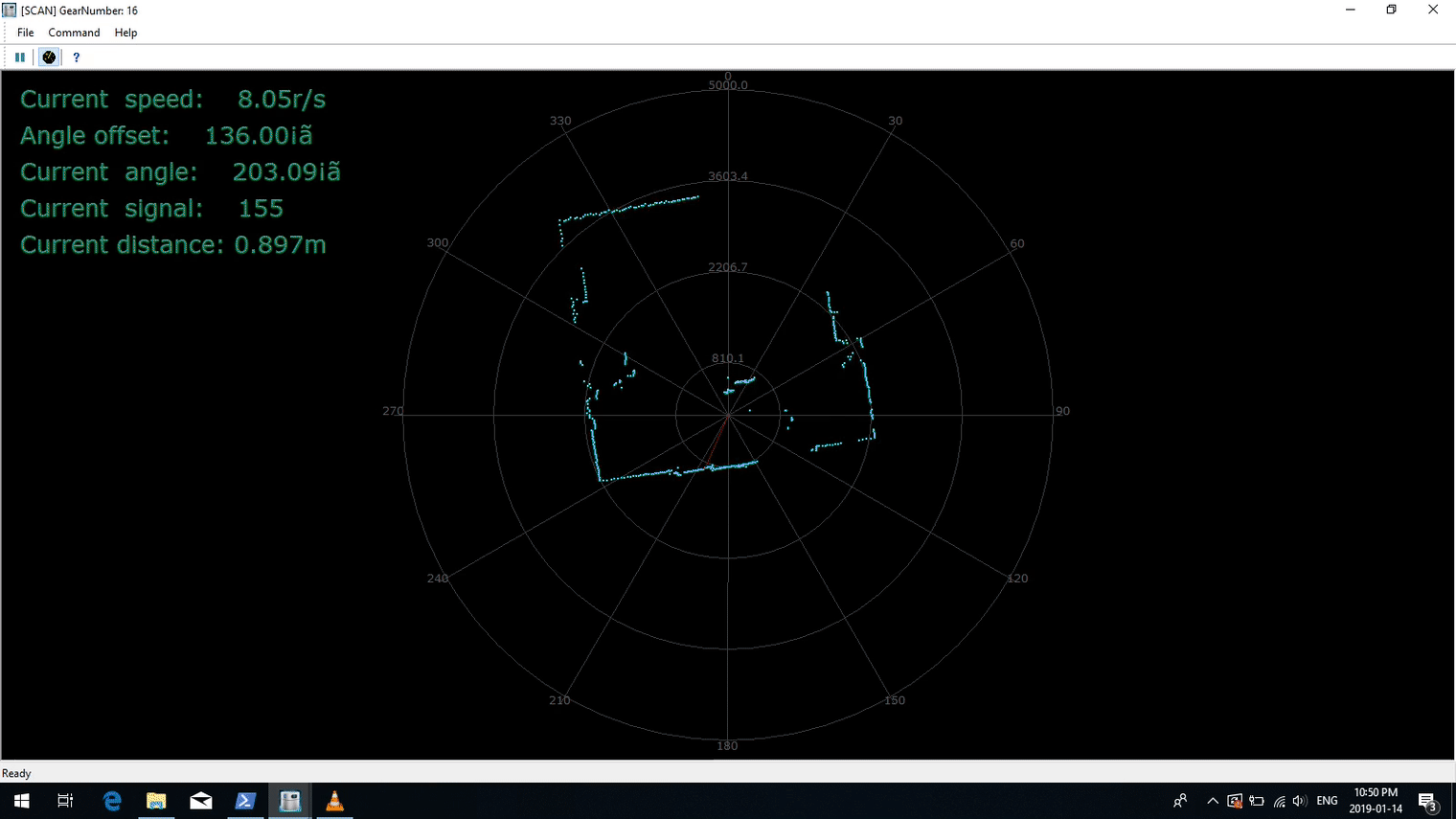 How to Use This Kit
See the full online Quickstart Guide for all details!
Since LiDAR uses pulsing laser light to determine distance, operating in direct sunlight may affect the accuracy of the measurements. Warning: Prolonged exposure to direct sunlight may damage the light sensor!
LiDAR Scanner Details
Range

0.2Meters ~ 8 Meters

Sample Rate

5K/Sec

Scan Rate

4 ~ 10 Rotation/Sec

Laser Wavelength

780nm

Laser Power

3mW (max)

Distance Accuracy

~1%@8m

Resolution

0.25mm

Communication

UART (3.3V TTL)

Rated Power

(Inc. Motor)

2.5W

Voltage

Measurement Circuit: DC 5V

Motor Driver: DC3.3V

Boot Current

600mA

Running Current

500mA

Size

108mm * 76mm * 51mm

Weight

185±2g

Operating Temperature

0 ~ 45°C

Operating Humidity

< 90%

Optimal Environmental Light Conditions

< 1000 lux
LiDAR Scanner Dimensions

Additional Resources
See the online Quickstart Guide for info on how to get started.
See our Omega2-Lidar-Kit repo on GitHub for more resources:
LiDAR Specifications – Dimension diagram and Protocol Guide
Installation scripts used in the Quickstart Guide
Example code to interpret the LiDAR data
Windows LiDAR visualization software
Additional information
| | |
| --- | --- |
| Weight | 0.46 kg |
| Dimensions | 17.5 × 11.4 × 9.4 cm |